Joan Beck
Administrator
I opened Willows in 1993 after seeing the need in our rural area for licensed childcare. My commitment from the beginning was to provide a high quality, safe environment for children in an atmosphere where parents felt comfortable leaving their child.
An important part of reaching these higher quality standards was my own education. I completed my Bachelor degree in Business Administration, through Marian University in 2004. Within this degree I have 36 credits in Early Childhood Education. I also completed the WI Administrative Credential in 2000, through Nicolet College, and the WI Leadership Credential in 2013, through UW-Milwaukee.
My focus on high quality, affordable childcare for all Wisconsin children has lead me into advocacy work through Wisconsin Child Care Administrators Association (WCCAA) where I served as President of WCCAA from 2019-2022. I also serve on the Governors Early Childhood Advisory Council, Wisconsin Early Childhood Coalition, WCCAA Conference Committee and WCCAA Advocacy Groups. 
My involvement at the local, regional, and state levels has helped Willows navigate through the COVID Pandemic. The relationships that are built have been essential in supporting Early Childhood Incentives which, in turn, benefits our children and families.
Brenda Schumacher
Program Director and Internal Coach
I am the Program Director here at Willows Christian Child Care Center, and the Internal Coach for our Pyramid Model Social Emotional Framework that we implemented in 2019.
I have my Associate degree in Early Childhood, along with The Program Development, Infant and Toddler, and Administrator credentials through the state of WI. I am currently enrolled at The University of Whitewater to achieve my Early Childhood bachelor degree.
I live in Allenton, WI., with my husband, Paul, and our two puppies, Oakley Ray and Greta May.  I also have an adult child, Dale, who is out on his own, succeeding and living his best life, and for that I am a very proud mom!
I welcome teaching as an opportunity to inspire and empower. Working in the childcare field, it is my goal to enhance children's learning as a creative play-based experience. I want children to become honest, curious, creative, and confident when they experience our instruction here at Willows. As the Program Director and Internal Coach for our social emotional teaching, it gives me the opportunity to share my passion for early childhood education. I work with my fellow teachers to inspire, engage, and awaken the wonder inside each child while teaching them their social emotional skills along the way!
Jennifer Kirchoff
Assistant Director and BIR (Behavior Intervention Planning) coordinator
I am the Assistant director at Willows Christian Child Care center and the BIR (Behavior Intervention Planning) coordinator for our Pyramid Model social Emotional framework which was implemented in 2019.  I am a teacher in our 3-4 year old room and school-age, when they are at the center.
I have my teaching degree from UW-Whitewater in Early Education and my Associates degree from MPTC in early childhood.  I have obtained 2 credentials from MPTC for Preschool and Administration.  I have been trained to help with TPOT and TiPTOS evaluations as part of our Pyramid Model and ASQ and ASQSE2, which are developmental and social and emotional screenings.  I have been a coop teacher to students from MPTC and NWTC doing their student teaching.
I live in Hustisford with my husband Ronald where we have a farm and raise steers.  We have two grown children, Caitlin and Cody, who have gone into Physical Therapy and teaching Physical Education. 
I enjoy working with the 3-4 years to help them learn how to handle their emotions, prepare for school, and their future.  I like to see their faces when they learn a new skill and solve a problem by themselves, with the skills we have taught them.  Most of all, I love the excitement in their voice when they enter the room and see me, the hugs, and reading stories with them surrounding me. 
I enjoy mentoring future teachers that come to our center to continue their learning, but maybe they come back or stay at Willows to become members of our team.  Not only do I hope I am helping them become a better teacher but they are also helping me become a better teacher too.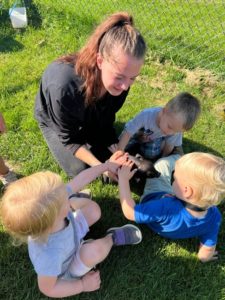 Willows Christian Child Care Curriculum
Willows Christian Child Care Center is a 5-star National Accreditation Commission (NAC) accredited center. We are a play based, child led, pyramid model center.  Our education and experience have taught us that just as no two children are alike in the way they develop and grow; curriculum is not a "one size fits all" standard for every child.
In addition, we have found that it is crucial to not only place emphasis on cognitive and physical development, but social emotional development as well.  That is why when creating our curriculum, we have integrated the best of several resources to come up with what we feel covers each area of development and will give our children the best chance to not only survive but to thrive in their world.
Nationally Recognized Quality Standards
We have integrated Wisconsin Model Early Learning Standards (WMELS), The National Association for the Young Children (NAEYC) developmentally appropriate practices, and Wisconsin Pyramid Model social emotional framework.
 WMELS guides developmental expectations for children birth through 1st grade.  The standards reflect the learning domains of a child's learning and development.  The domains include: health and physical development, social and emotional development, language development and communication, approaches to learning and cognitive and general knowledge milestones.  Each domain is divided into sub-domains which include developmental expectations, program standards, performance standards, and developmental continuum. 
Evidence-Based Practices
NAEYC also shares consistent goals for children and promotes learning and development in each of the learning domains above.  Most importantly the children are recognized and supported in the context of family, culture, community, and society. 
            Positive, supportive, nurturing relationships sets the tone at Willows; therefore, we implemented the WI Pyramid Model framework in 2019.  This framework is evidence-based practices for promoting young children's social emotional development.  The pyramid model consists of three tiers of intervention- universal practices for all children, targeted instruction for children who are at risk of social emotional delays, and individualized behavior support for children with significant social skills deficits or persistent challenging behavior.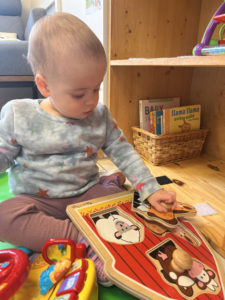 Individualization Ensures Success for Each Child
Each classroom provides open ended learning environments, opportunities, and experiences. The learning areas inside and outside are designed by our teachers to meet the individual needs, interests, and skill levels of each group of children.  All our lesson plans are written with principles of child development as well as with understanding that learning occurs throughout all portions of the daily routines.
Teachers work as partners with families, sharing observations of each child's growth and developmental milestones and setting goals together. Individualized planning allows for learning play experiences that engage children through their interest, while incorporating the developmental learning skills needed and the introduction of new skills and concepts.  Goals are set through milestones for each child along with a group goal to work on each month.
We support healthy development with ASQ-3 and ASQ-SE3 screening tools.  Evidence shows that the earlier development is assessed- the greater the chance a child to reach his or her potential.  ASQ-3 and ASQ-SE3 relies on parents as the experts of their children, is easy to use, family-friendly and creates the snapshot needed to catch delays and celebrate milestones. Along with the parents filling out the screening tool, the teachers here at Willows do also. The screening tools get compared and this is one of the ways the teachers plan their lesson plans to strengthen the children skills.
Willows Exceptional Quality
NAC Accredited with a 5-Star YoungStar Quality Rating
Teachers have Bachelor/Associate Degrees and receive 30 hours annually of on-going Education/Training.
Quarterly Parent Board Meetings Facilitate Communications and Foster Positive Relationships.
Non-Profit 501(c)(3) FIN: 39-1758911
Willows Exceptional Care
Quality Child Care is our Career
Meals and Snacks are prepared on site and meet standards in the USDA Food Program
Teachers have 100+ years of Experience in Child Care
Curriculum is Developmentally Appropriate
Kindergarten Readiness Skills are Stressed
Contact Us
For more Information concerning Enrollment or Prices, please contact us at:
1993WillowsChristianCCC@gmail.com
Hours of Operation: 6:00am - 5:30pm
Monday - Friday
Ages Served: 6 weeks - 13 years