Make a Contribution to Willows
Donations to 501(c)(3) nonprofits are tax-deductible. This means that when you make a contribution to an organization that has been designated as a 501(c)(3) by the IRS and you have not received anything in return for your gift, you are eligible for a deduction when you file your taxes.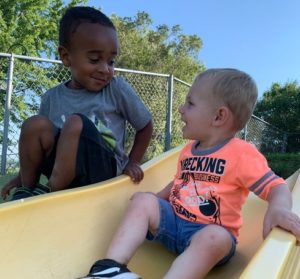 Willows Childcare Programs

Your Child's development is one of our top priorities. We provide theme based learning centers that are developmentally appropriate, individualized, hands-on learning experiences. We base our curriculum on the WMELS (Wisconsin Model Early Learning Standards) and NAC accreditation criteria.
A Learning Center is a place where every child is actively involved in learning, where she/he learns in a natural and enjoyable way through his/her own experience. It is a place where a child works with concepts and ideas concretely, by handling familiar objects and manipulating them. A Learning Center is a place where children are free to make mistakes and to learn directly from these mistakes; where errors are used as clues for the teachers to enrich the curriculum to meet the individual child needs. A Learning Center is a place where a child needs to trust his/her own judgments and thoughts, where she/he is free to try things as an expression of creativity and individuality.
Our Developmentally Appropriate Activities Encourage:
Fine & gross motor strength
Language & literacy
Mathematical thinking & problem solving
Creative expression through art & music
Social & emotional growth
Sensory/hands-on learning
Individualized Learning Opportunities:
Caring and supportive staff
Positive first academic experience
Unique weekly themes
Engaging activities
Safe environment
Individualized learning plans
Willows Christian Child Care Curriculum
Willows Christian Child Care Center is a 5-star National Accreditation Commission (NAC) accredited center. We are a play based, child led, pyramid model center.  Our education and experience have taught us that just as no two children are alike in the way they develop and grow; curriculum is not a "one size fits all" standard for every child.  In addition, we have found that it is crucial to not only place emphasis on cognitive and physical development, but social emotional development as well.  That is why when creating our curriculum, we have integrated the best of several resources to come up with what we feel covers each area of development and will give our children the best chance to not only survive but to thrive in their world.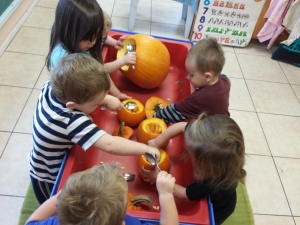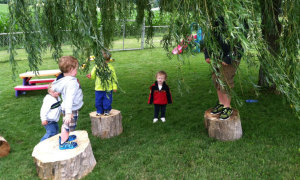 Integrated Quality Standards
We have integrated Wisconsin Model Early Learning Standards (WMELS), The National Association for the Young Children (NAEYC) developmentally appropriate practices, and Wisconsin Pyramid Model social emotional framework.
WMELS specify developmental expectations for children birth through 1st grade.  The standards reflect the learning domains of a child's learning and development.  The domains include health and physical development, social and emotional development, language development and communication, approaches to learning and cognitive and general knowledge milestones.  Each domain is divided into sub-domains which include developmental expectations, program standards, performance standards, and developmental continuum.
Individualize Learning Plans
NAEYC also shares consistent goals for children and promotes learning and development in each of the learning domains above.  Most importantly the children are recognized and supported in the context of family, culture, community, and society. 
            Positive, supportive, nurturing relationships sets the tone at Willows; therefore, we implemented the WI Pyramid Model framework in 2019.  This framework is evidence-based practices for promoting young children's social emotional development.  The pyramid model consists of three tiers of intervention- universal practices for all children, targeted instruction for children who are at risk of social emotional delays, and individualized behavior support for children with significant social skills deficits or persistent challenging behavior. 
Willows Exceptional Quality
NAC Accredited with a 5-Star YoungStar Quality Rating
Teachers have Bachelor/Associate Degrees and receive 30 hours annually of on-going Education/Training.
Quarterly Parent Board Meetings Facilitate Communications and Foster Positive Relationships.
Non-Profit 501(c)(3) FIN: 39-1758911
Willows Exceptional Care
Quality Child Care is our Career
Meals and Snacks are prepared on site and meet standards in the USDA Food Program
Teachers have 100+ years of Experience in Child Care
Curriculum is Developmentally Appropriate
Kindergarten Readiness Skills are Stressed
Contact Us
For more Information concerning Enrollment or Prices, please contact us at:
1993WillowsChristianCCC@gmail.com
Hours of Operation: 6:00am - 5:30pm
Monday - Friday
Ages Served: 6 weeks - 13 years