National Accreditation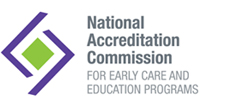 Willows Christian Child Care Center has been accredited since 2012 through the National Accreditation Commission (NAC). NAC was designed in 1991. For more information about NAC: info@earlylearningleaders.org.
Through accreditation, Willows is committed to a higher quality of child care by:
Implementing curricula that promotes cognitive, language, motor, and social / emotional development of children in a creative and explorative manner, while fostering positive self-esteem for all children.
Conducting continual child assessments to track the progress and needs of our children which helps to better meet these needs through our daily activities.
Demonstrating appropriate attention to the areas of health and safety by maintaining the interior and exterior premises.
Promoting and welcoming and open environment for families through staff that operate in a professional and ethical manner.
Demonstrating best practices in leadership and management, with accountability to our families, staff and the community.